Case Study IX
MSC Carla
Complete Hull Failure in a Lengthened Container Vessel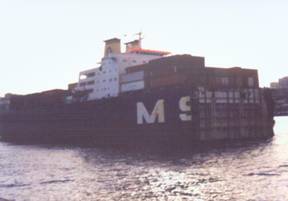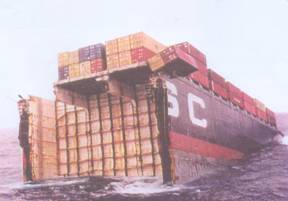 Vessel Particulars
LOA:  289.5 m
Breadth:  32.21 m
Depth:  23.9 m
Draft:  11.9 m
Gross Tonnage:  55,241
Deadweight:  40,912 tonnes
Container Capacity:  2870 TEU
Design Speed:  23 knots
Builder:  Gotaverken OresundVarvet A/S, Lanskrona, Sweden
Year Built:  1972
Lengthened: Hyundai Mipo Dockyard, Mipo, South Korea, 1984
ID No.:  7214624
Class:  Lloyds Register
Flag:  Panama
Registered Owner:  Rationis Enterprises, Inc., Panama
Charterer:  Mediterranean Shipping Co., Geneva
Vessel Type:  Double hull containership, Triple screw diesel propulsion
Hull Material:  High Strength Steel
Arrangement: 12w x 3h above deck, 10w x 8h below, 8 holds

Figure 1. Profile of MSC CARLA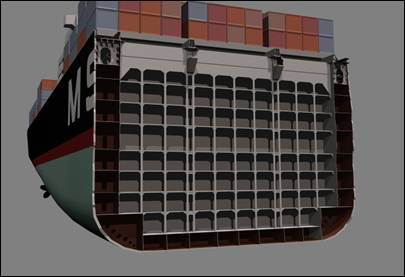 Figure 2. Section of MSC CARLA
Summary of Structural Failure
The hull of MSC CARLA broke apart at the forward end of the new midbody.  The bow portion sank after five days.  The stern was towed into port.

Figure 3.  Location of Midbody and Fracture
Lengthening
MSC CARLA was built in 1972 in Lanskrona, Sweden.  She was originally 275.22m LOA. In 1984 she was lengthened by Hyundai Mipo Dockyard to 289.48m, an addition of 14.27m.  This was accomplished by splitting the hull between frames 146 and 147, in Cargo Hold 5 – the first hold forward of the house – and inserting a section 15.06m that included 22 frames and one transverse bulkhead.  (The bulwark at the bow was shortened, resulting in the net change of 14.27m.)  The additional midbody created a new 40' container hold below deck.
In order to enhance the longitudinal st